2016 Honda Odyssey is family van that can do it all
The 2016 Honda Odyssey is a true family vehicle that opens the door to going anywhere at any time. From a day at the beach with the kids to a romantic day trip or just bringing home this week's groceries, this family van from Tampa Honda will do it all!
The latest Honda Odyssey is the most versatile minivan on the streets today. Heck, this modern classic from your local Honda dealership even includes a built-in vacuum on some trims and also includes the famous Tampa Honda Lifetime Warranty. So, there's no need to look anywhere else any longer — make this your family's next ride.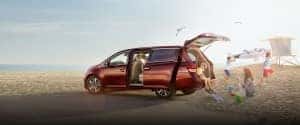 Pamper your back-seat passengers
The 2016 Odyssey is quite capable of handling active family lifestyles. Come see for yourself.
Bring your crew to your local Honda dealership this weekend and put the comfortable second- and third-row seating to the test while take command up front with available options like navigation, infotainment, and other great available features. And the kids will actually love settling into the comfy back set and enjoying a flip-down movie screen with optional gaming capability that makes long road trips pass super-fast.
Take advantage of the Tampa Honda Lifetime Warranty
Honda has a reputation for building quality vehicles with incredible reliability. And while Honda backs 2016 vehicles with Honda Limited Warranty, but the Lifetime Warranty from Tampa Honda is underwritten by Great American Insurance and it covers your vehicle for as long as you still own it. It's also good anywhere in the USA, which means you're covered even on those family vacations.
So what are you waiting for? Visit Tampa Honda soon to come and test drive the super-accommodating Honda Odyssey and experience conveniences like a flip-up trash bag ring on the back of the center console and the 170-plus cubic feet of passenger volume. Combine all this with the fact that the Honda Odyssey boasts award-winning safety features to protect you and yours … and it is really easy to make this your next family vehicle!