Honda Maintenance Schedule answers "when do I need service?" question
Most of us are not very mechanically inclined or even have a general idea of how vehicles and engines operate. That's why the Tampa Honda service department is a great fit for you and your busy schedule.
Not only do the service technicians at Tampa Honda know your Honda inside and out, their interactive website also offers a handy Honda maintenance schedule. This popular feature offers some helpful hints that guide you to getting the right service at the right time so you can keep your car or truck running like new for years to come.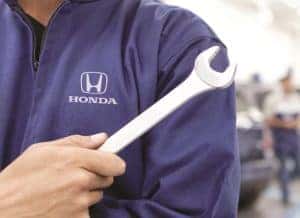 Sure, we all know that an oil change is recommended at regular intervals such as 3,000 to 4,000 miles. Tire tread provides a pretty easy-to-read signal of when we new tires. But do you really know how long a timing belt lasts?
Most of us wait until we hear our brakes squeaking to have them checked out…but what about your brake fluid? That doesn't make a noise, so it's much more difficult to know when it is time for a flush and/or replacement.
Don't worry — the Honda Maintenance Schedule tool makes it simple to know when certain service or maintenance is likely to be necessary. This Honda service schedule uses manufacturer recommendations and information to compile a list that shows at what mileage milestones and time intervals you'll need to replace that transmission fluid to keep the shifting operating smoothly, or to recommend how often you should replace air filters and fuel filters to maintain excellent gas mileage.
And that is just one way that the Tampa Honda service department works to save you time and money. Another way is through the Tampa Honda Service Coupons on your local Honda dealership's website. These service coupons offer discounts on services like an oil change, a front-end alignment or even things like new tires and wiper blades. Check them out, print them or save them on your mobile device and bring them in with you to be rewarded for keeping your Honda in tip-top shape.
So if you have questions about what services are needed at what intervals, then visit the Maintenance Menu on the Tampa Honda website. And then head over to the dealership's service department when it is time for some routine preventative maintenance. They have a comfortable and amenity-filled waiting area with WiFi, and they even offer a shuttle service to scoot you around if needed.