How to use Apple CarPlay in Honda vehicles
What is Apple CarPlay?
All of Honda's 2018 models feature Apple CarPlay on the audio screen to get directions, make calls, send/receive messages and much more.CarPlay allows you to still use all the functions of your iphone in a safe way. You will need an iphone 5 or newer running iOS 7.1 or newer to use the Apple CarPlay feature. Supported apps for Apple CarPlay include Phone, Messages, Maps, Music and compatible third party apps.
Setting up Apple CarPlay
In order to set up apple car play you will also need to confirm that Siri is turned on. In order to do this go to Settings, General, and Siri. Second, plug your iPhone into the CarPlay USB port located in the center-console. Carplay will require you to send vehicle information to Honda You will have to Enable CarPlay to do this one time. Once enabled on the Home page select CarPlay. Your phone will now be paired with your Carplay auto system and you can enjoy all the benefits Carplay has to offer.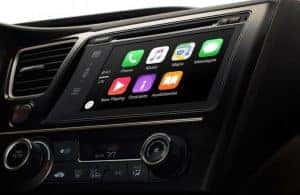 Features of CarPlay
On the phone feature you can access your contacts, make phone calls, listen to voicemail. While connected to Carplay calls will only be able to be made through carplay not through bluetooth. You can play music stored on your iphone, You will be able to view maps and operate navigation. You will be able to view and reply to text messages or have them read aloud by the system. Once you are connected to carplay press and hold the Talk button on the steering wheel to operate the system using voice commands with Siri Eyes Free.
You can also view the video below to see a step by step on how to set up Apple Carplay.
If you are still having issues setting up your Carplay you can click HERE to view instructions on specific models.