Top 5 reasons a Honda Ridgeline is the best tailgating truck
Finally, football is back. That also means it's tailgating season! And Tampa Honda has the ultimate tailgating truck in the recently revived Honda Ridgeline.
This groundbreaking new truck now available at your local Honda dealership is transforming game day not only with its incredible cargo capabilities, but also with technology. So come test drive a 2017 Honda Ridgeline today and experience the best pre-game ever this Sunday at Raymond James Stadium. Whether your Tampa Bay Buccaneers win or lose, your tailgating will ascend to championship level.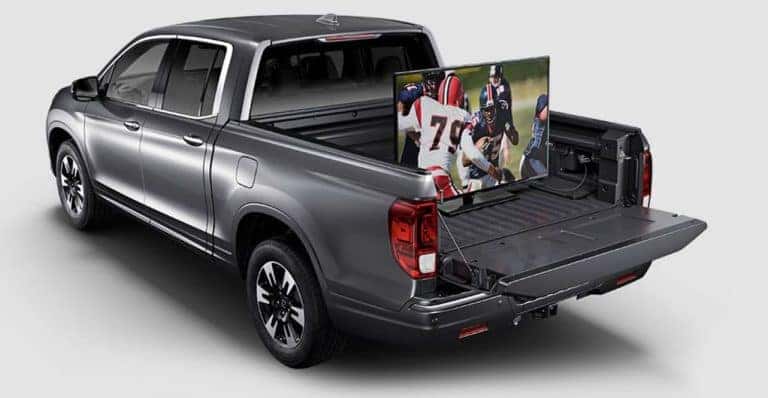 Take everything you know about traditional truck beds and toss it all out the window. The new Ridgeline makes so many improvements that it is poised to shake the auto industry and change trucks forever.
Here's a few reasons the 2017 Honda Ridgeline is the ultimate tailgating (or camping) vehicle:
It has a Power Outlet
It has an available 150/400-watt in-bed power outlet built right into the bed wall. That means you can bring along your giant TV and watch the pre-game with your friends from the parking lot of the Ray Jay. And when the Bucs are out of town? Well, how about a fun outdoor movie family night? When your camping, you can bring along your laptop and stay connected even while you are "roughing it."
More Storage than Your Closet
Ok, so everybody knows that trucks don't have a trunk, right? Well, the Honda Ridgeline just changed that with the class-first In-Bed Trunk® for storage under the bed floor. Yes, that's right … this amazing truck bed has storage beneath the storage!
The in-bed trunk allows you to keep your stuff dry if it happens to rain on game day. Boasting 7.3 cubic-feet of space, it's the perfect spot for an ice chest full of cold drinks — leaving more room for a big screen TV up top in the bed. Camping instead? Keep your food in there to protect it from animals. It's also plenty big enough for your guitar, so you can entertain at campfire time.
Ridgeline Will Rock & Roll
Turn the sound down on the TV and crank up the volume on the good times at your tailgating party with the industry-first Truck Bed Audio System on a Ridgeline from your local Honda dealership. This system, which can be operated wireless via Bluetooth, has 6 exciters that use the bed wall to dial it up to 10 with 540 watts of sound.
This revolutionary feature could also make yard work much more enjoyable as well!
Put it Down or Swing it Out. Your Choice.
The Ridgeline even changes the very word tailgate with its Dual-Action Tailgate. This new equipment allows you to either fold down the tailgate as is traditional, or you can swing the tailgate open to the side. Just imagine how much easier this can make loading and unloading cargo. Like loading a 50-inch TV for watching the big game while camping, because a small screen just won't do.
Room for Five Inside
Additionally, The 2017 Honda Ridgeline has room for a family of five inside thanks to its whopping 109 cubic-feet of space and the super-accommodating 60-40 split lift-up rear seat. And yes, you guessed it — the rear seat flips up for additional storage beneath the seats. Surprisingly spacious for a pickup truck!
So take your tailgating and camping to the next level. Come test drive the Honda Ridgeline at Tampa Honda today and experience versatility not before seen in a truck.